The first harvest in the garden begins now. First of June and I have harvested spinach, coriander and unbelievably also friarielli. Everything above is from my seeds from last winter. The spinach has been out all winter and I planted the friariellin indoors already in April, moved them out in May and today it was time to eat them.
I thought it was impossible to sow them here in Sweden but on the contrary it was very simple ..
The cultivation and use of Cime di rapa is widespread in southern Italy, mainly in the regions of Apulia, Campania, Calabria, Basilicata and Lazio where Cime di rapa has been cultivated for centuries. In northern Italy, fresh Cime di rapa is difficult to obtain and commercial cultivation is not very widespread. The explanation for the big differences is both climate and traditions.
I'm used to this being something I only eat when I'm in Italy so my joy was huge to be able to grow this myself here at home in the garden.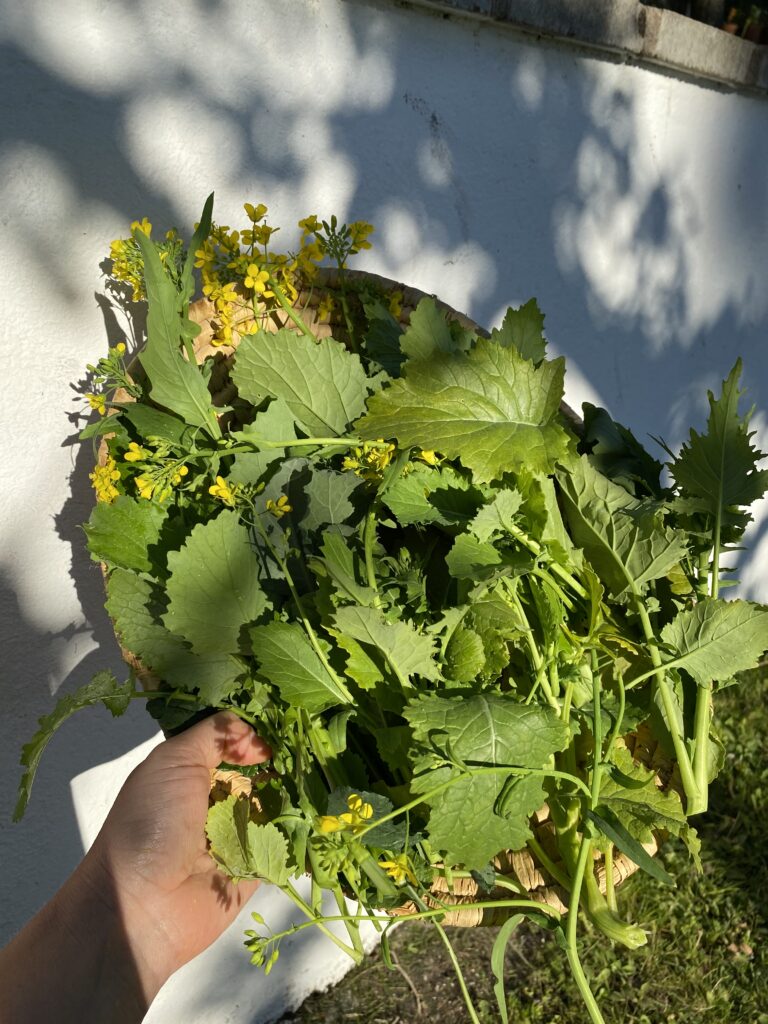 Actually, they should be picked before they go to Blom, but I did not really have time. You can harvest parts of the plant as new shoots can appear.
I made them in the classic Neapolitan way today, pre-cooked and then fried in olive oil, garlic, true and chili. Good with some bread or a salsiccia.

I also made another classic pasta dish, although I replaced the orechiette simply because I did not have them at home and sometimes you simply take what you have.
ORECCHIETTE
WITH THE CIME OF RAPA/ Friarielli
(4 persons)
300-400 g Orecchiette
(the pasta is available in well-stocked grocery stores
and Italian delicatessens)
Large bundle of Cime di rapa
(thin leaves and heads)
A couple of slices of chopped garlic
4 pcs anchovy fillets
Fresh red chili pepper
Sea salt
Fried bread crumbs
Clean and rinse Cime di rapa and put it in boiling lightly salted water. Let boil while stirring for about 5-10 minutes. Take up Cime di rapa and boil the Orecchiette pasta in the same water. Heat the olive oil in a frying pan, add the chopped garlic and anchovies and simmer on a fairly low heat. When the pasta and Cime di rapa are ready, put them in the frying pan, stir well and let everything simmer for another couple of minutes. Salt. Place the dish in deep plates and sprinkle over the fried breadcrumbs.