I love roasted chestnuts, it gives such a Christmas feeling to me. In almost all countries where I have lived over the years, the chestnuts are included in the Christmas picture. Spain, Switzerland and Italy to name a few. The scent that comes from the katan stalls on the city streets and a red-cheeked woman with curly hair who enthusiastically shouts "caldarroste caldarroste" in Italy and castaños in Spain. Warming my hands around an ostrich with chestnuts is Christmas for me. Not so common here in Sweden maybe, but the other day they had fresh chestnuts in my grocery store so I immediately wanted to try out a new recipe for a weekend roast with chestnuts.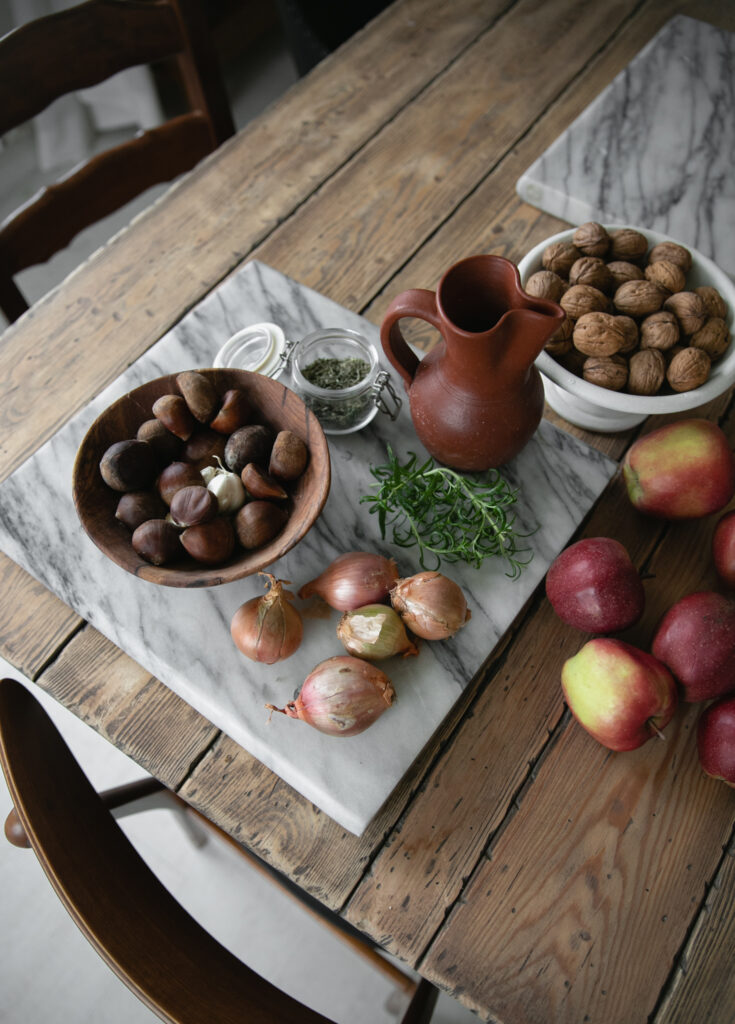 I thought it might be a nice alternative to Christmas ham that no one in our family is so fond of. The children do not want Christmas ham and my husband from Venezuela does not have it as a tradition either. So in a multicultural family like ours, it is not surprising that you arrive at your own traditions instead. It will be a mix of Italy, Venezuela, Spain and Sweden. You can have chestnuts for so much, make flour or cream, but above all I think that the sweetness of the chestnut fits perfectly in pots together with a little red wine.
So today I tried to make whole fried chicken, (preferably organic as they taste best in my opinion) with chestnuts, shallots, winter apple, rosemary and mulled wine. I start by rinsing the chicken and then rubbing it in olive oil. Let it stand for about 30 min. Salt and grind over black pepper. Inside the chicken I put some onions and a sprig of rosemary. Set the oven at about 175 degrees and place the chicken in a form with a lid. Around the chicken I put more onions, garlic, roasted and peeled chestnuts, two winter apples in wedges. Pour on about 1 dl mulled wine alternative cooking wine and 1 dl water. I let the chicken stand inside for a long time, 2-3 hours preferably. At the end I take off the lid so the chicken turns golden. Place everything on a serving platter and serve with optional accessories. Salad and potatoes for example.