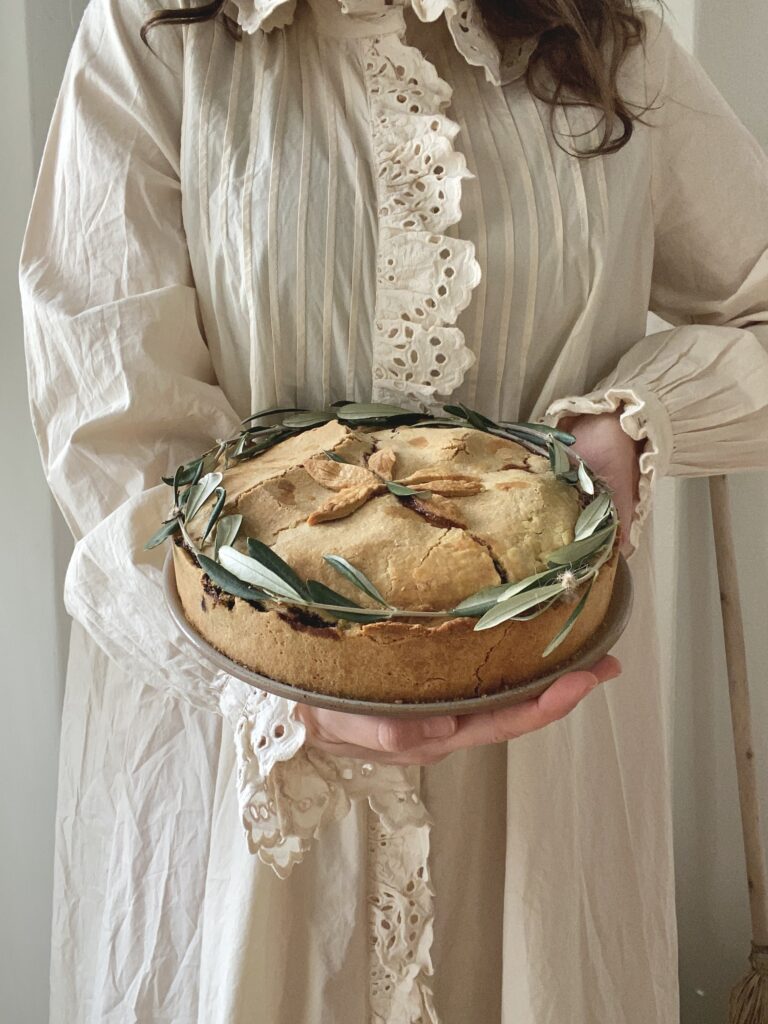 It is well into November but we can still eat food from our own crops. Today I made a torta rustica with black cabbage. In principle, a torta rustica is a rustic pie and this particular type of filling can vary between, among other things, cabbage and zucchini or pumpkin. Becoming as self-sufficient as possible is a heavenly challenge and in just 6 months we managed to produce an incredible amount of food all by ourselves from seeds. The food cellar is filled with salsas, pickles, pickled tomatoes, onions and root vegetables. Out in the beds are still the black cabbage and kale and it is this black cabbage I use today. I took a walk in the garden and fetched cabbage and then eggs from the hen house .. When you start your journey towards becoming more self-sufficient, you automatically also move towards eating more of what is in season. It feels wrong to buy eggplant in the store when I have home-grown zucchini at home .. It also happens that you enjoy a little more when you have to wait a little longer for something .. we are not adamant about this but it definitely goes in the right direction and I would say that we reduced our vegetable purchases by about 80% only on our first trial year.
okay but back to torta rustica, if you want to make it extra easy you can use ready-made pie dough, even puff pastry is excellent. Otherwise you just make a regular pie dough with butter and flour. The black cabbage is shredded into pieces and fried slowly with a little water, oil, black pepper, grated nutmeg, garlic and salt until soft.

Place pie dough in the bottom of a mold and up towards the edges. Mix the fried cabbage with 2-3 eggs, a splash of cream if you like and a few pieces of parmesan. I like that anyway, but can be excluded or exchanged for other cheese such as ricotta. Pour the cabbage into the mold and dig out four holes where you crack an egg in each hole. Then place more pie dough on top. Decorate if you want and brush with egg. Then cook in the oven for about 20-30 minutes at 175 degrees. This recipe fits very well as we use our own cabbage and our own eggs. It is easy to replace the filling depending on what we have in season or in our food cellar. I also usually freeze pieces and have them as a lunch box.