We built a greenhouse / orangery of old windows and old bricks. We built a dream. A Mediterranean greenhouse. A Mediterranean dream. Think we did this !? That we created this little gem for a greenhouse. In addition, on basically only recycled materials, old leaded windows, old doors and old bricks ..
So many questions that came in regarding the greenhouse so I thought I would write here how we did and how I thought when we would uggs our greenhouse.

The first step was to collect pictures of greenhouses that I liked, what feeling was I looking for and how could we adapt it to the structure we already had ..? We had a roof on a patio. Eddie built the roof because he had his pool table there ... yes a pool table. One of those compromises you make as a married person .. anyway the pool table had done its thing and it was time for me to use this corner of the garden now .. it was time for something new. Something new that was old. Something that looks like it has stood there for a hundred years and has been handled with care. It was time for my orangery.
We made a small first sketch. A sketch so that Eddie would understand what I was looking for. Then we compared with my inspirational pictures.

We needed old windows and old bricks. The important thing was to find old windows and old brick partly for the right feeling with patina but also purely economically and of course for the sustainable aspect. The hunt began and I checked Blocket and Facebook Market every day. Pretty quickly I found an ad where someone gave away old bricks from a tiled stove so we went out to get them. It was snowing and it was zero degrees. The bricks were in a mud puddle holes about noise and we loaded as many as we could on the truck. Muddy, wet but happy we went home with our treasure again.
The next day the sun shone and we started scraping away all the old mortar from the bricks. They were so beautiful. Absolutely perfect. These would be a fantastic foundation for the greenhouse. We built them around our existing frame. The idea was to make it look like the windows are on top of the bricks, but they really do not. It's a beautiful illusion but it works, the feeling was right.

We also found an ad for lots of old windows so we did not have to hunt in lots of different places. Nice. Then we had collected some from before and I have saved the doors and had them indoors for probably 2 years now. Did not really know what to do with them but they were so beautiful that I saved them. They come from a gate inside the city. Over 100 years old and was going to be replaced so I took care of them. There are three small glasses missing but it is on the list to fix ..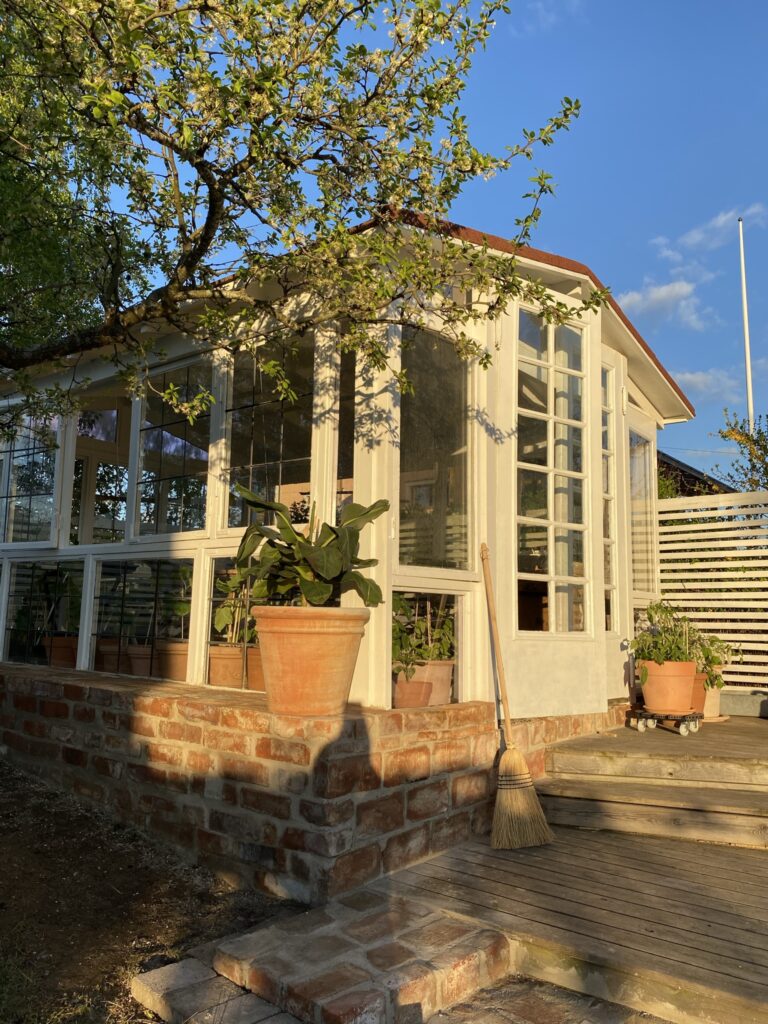 All windows were painted white for a uniform feeling and to make it last for many years to come. Surely it still looks like it's always been here? So worth all the hours of work. What took the most time was all the measuring and puzzling to get the windows to fit into our existing structure.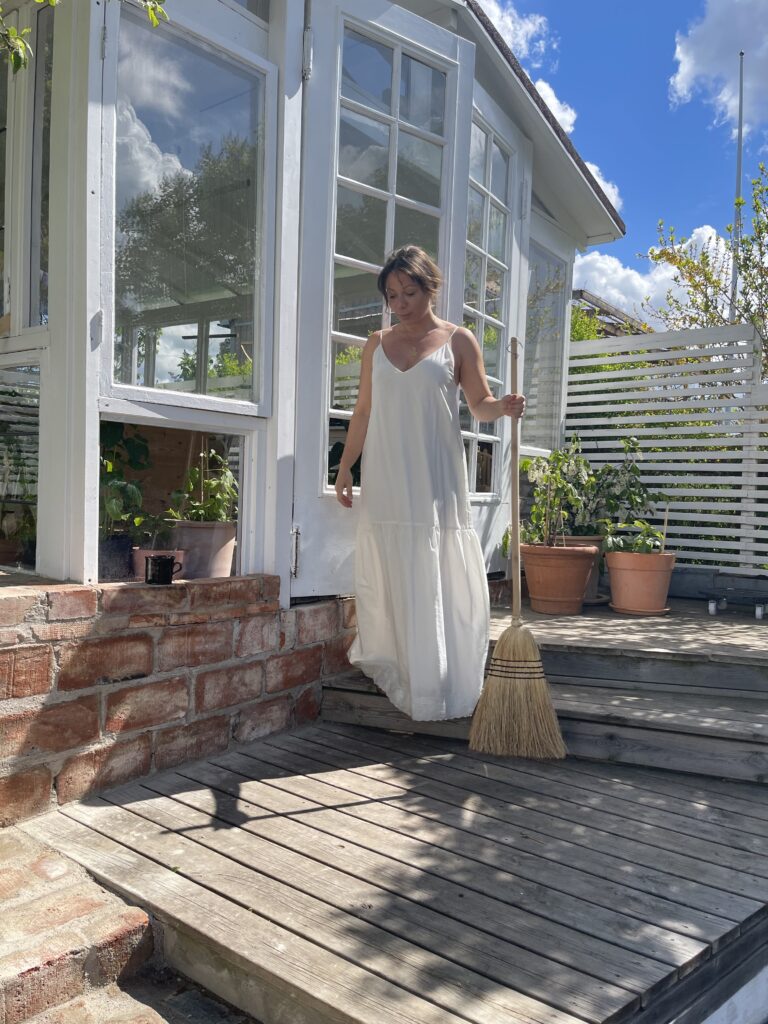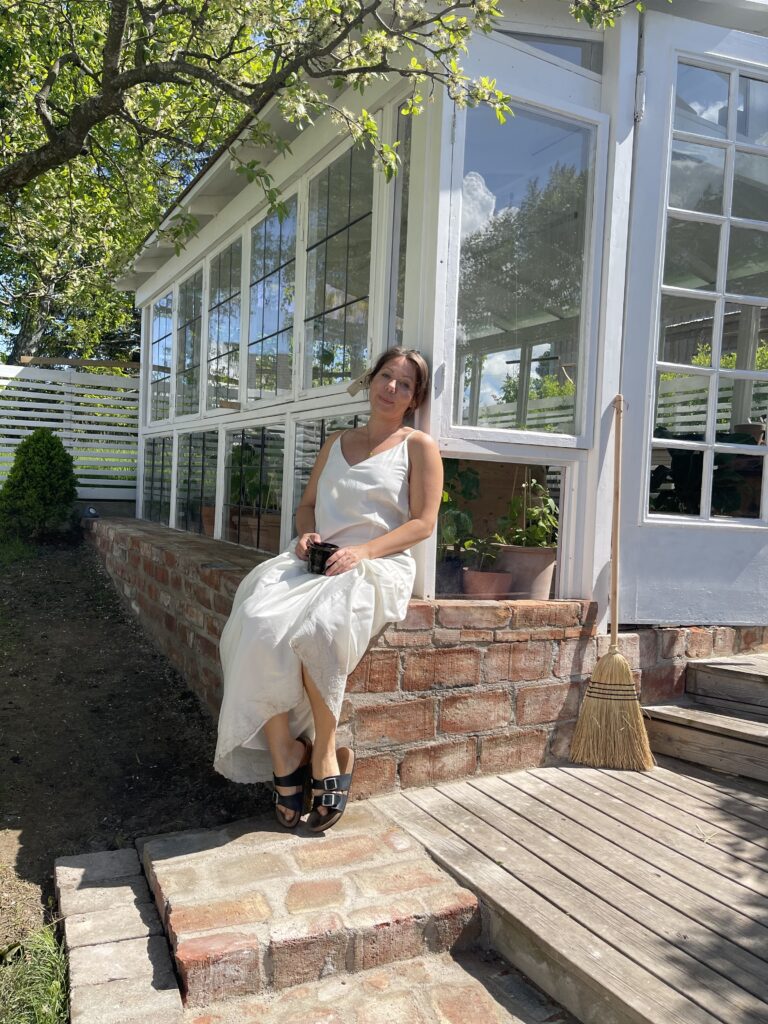 It is still not completely clear, shelves will be up inside, paving stones will be laid on the floor and we will fold in some window glass in the ceiling for extra light. We also have to seal some gaps before winter comes, but right now it's just nice that air is coming in. We take it step by step. Must stay and enjoy too. The light in here when the sun goes down is absolutely wonderful. How it breaks in the old windows in a way that new glass does not. Magical and absolutely wonderful. Imagine every night here with a glass of rosé and the garden flaunting outside. As I long !!
Today I will plant 150 sunflower seeds in different varieties. Everything from extra high, to low, burgundy and even white italian white sunflowers. That will be today's task. Hope you have a wonderful weekend and that our dream building may also inspire you who go and dream of a greenhouse.